Fundamentals of Irrigation Design: Live Video Conference (1/17/22)
Live Video Conference
Your Choice
Your City, British Columbia
VVV VVV, Canada
Day 1: Jan 17, 2022 08:00 AM to Jan 17, 2022 04:00 PM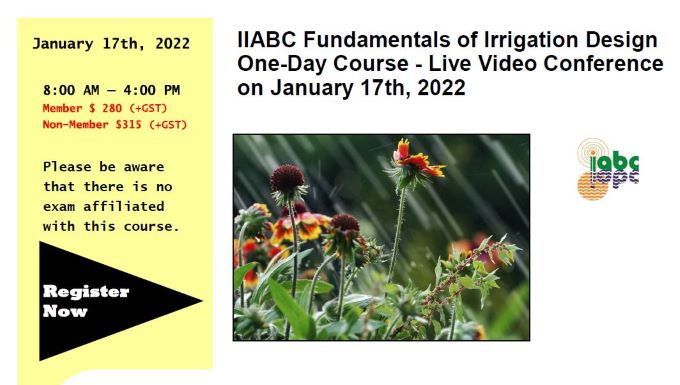 ---
Need to Know..
This course will be delivered via Live Video Conference.
Participants Need:
An internet connection –broadband wired or wireless (3G or 4G/LTE)
Speakers and a microphone – built-in, USB plug-in, or wireless Bluetooth
A webcam or HD webcam - built-in, USB plug-in, or: An HD cam or HD camcorder with a video-capture card
For printable information click here.
Prerequisites: (none)
Category: Classroom Certification:
Registration Now Closed
Upcoming Courses
When are the next CIT-1 and CIT-2 courses being held?
Course dates and locations are posted on the website as soon as they are planned. Each year at our annual convention in November and Jan-Mar in selected regions. Regional courses are not posted until after the annual Convention.
As an IIABC Member will I be able to take the CIT-1 course & CIT-2 course & exams prior to the season start?
YES, but you must first pass the CIT-Level 1 exam before you can write the CIT- Level 2 exam.
Can I just challenge a CIT-1 exam without taking the course?
No, the CIT course must be taken and exam then successfully passed to become IIABC CIT-1 Certified.
Can I challenge the Certified Irrigation Design Turf-Residential exam without taking any courses?
Yes, but it is highly recommended that a person take some irrigation design training which can be done where offered. Agriculture design courses are offered if a waitlist of at least 10 people is reached.